---
Deep Cycle LiFePO4 Storage Battery PackFor Marine/RV
Professional lithium battery factory since 2003 year. 
Have CE, ISO9001, UN38.3, TEST REPORT, MSDS. E-Mark Certificate
Can design the battery as customers' requirements, with build-in BMS or cells pack.
Service life can over 2000 cycles based on 100%DOD
Welcome to Contact us!
---
PORTABL EENERGY STORAGE
Deep Cycle LiFePO4 Battery Pack
Technical specification
Capacity

12.8V/90Ah or 1200Wh

Input

12V/100A (battery terminal)

Output

5V/4.8A (USB port)

12V/15A (DC)

12V/100A (battery terminal)

Size

302*168*218mm

Weight

10kg

Charging Temp

0℃~45℃

Operating Temp

-20℃~55℃

Storage Temp

-20℃~45℃

Lifetime

>3500 cycle
---
■ KEY FEATURES
● Extremely long cycle life: the capacity is over 80% after 1C charge and discharge under 100% DOD condition for 3500 cycles, design life up to 15 years
●Cost effective: thanks to very high discharge voltage platform (above 12 volt) and stable discharge curve, our LiFePO4 battery pack 12.8V/90Ah≈lead acid 12V/150Ah battery, vary         base on different load, it's especially favorable to the high voltage cutoff application.
● Water resistant body: IP65 rated
● Ultra-Safe: the LiFePO4 battery pack have more thermal and chemical stability, is widely  used on E-bus and backup storage battery system in telecom, also built in short circuit,           over current, over charge, over discharge and over temperature protection.
● Also using UL94V-0 fire resistance material on plastic case
● Environment friendly: no pollution or environmental hazard, mandatory recycling does not required.
● Very light weight: only one fourth of equivalent capacity lead-acid battery.
● Extendible: easy to be extended in parallel or in series to get more capacity or higher voltage.
● Maintenance-free: no need to maintain the battery regularly.
● Compatibility: it can be easily connected with the same battery charger, inverter or electric appliance like a regular 12 volt lead-acid battery since they have very similar voltage  and same terminals.
---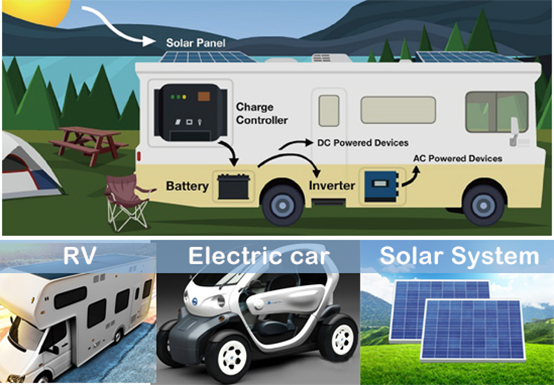 ---
---
---
■ Hot Selling Models
---
 ■ 

Our Story
● Wisdom Power® Battery Company was established for serving the energy storage needs of customers who care about their environmental impact. The founders of Wisdom Power, Eric, believe that every small steps can make the big impact on the environment.
● "We saw that millions of batteries were being scrapped every year, and how to solve this problem? But what is different of lithium iron battery?"
● The high reliability, lower cost, long service life and pollution-free operation of Lithium ion batteries are gradually replacing lead-acid batteries in a wide range of applications, especially for  renewable energy power systems and solar PV.
● Wisdom Power® lithium ion batteries are designed under critical and harsh circumstances for solar PV and renewable energy applications. Wisdom Power battery can withstand deep discharge, wide temperature variations, mechanical and electrical abuses and still show excellent and reliable performance over a long period.
 ■ Applications
---
 ■ Certificates
---
 ■ Exhibitions
---
| | |
| --- | --- |
| Battery model | Can design as you need, different colors, cases. |
| Responses | Quick responses within 24 hours |
| Samples | Available, please discuss with us |
| OEM/ODM | Yes |
| Delivery way | By sea, air, express |
| Price item | EXW, FOB, CFR,CIF, DAP. |
| Visit Factory | Yes, welcome |
---
---
■ Transportation
---
---
■ FAQ:
---
Q1.

How safe are the Lithium-Ion batteries of  Wisdom Power®?
● Wisdom Power® batteries use LiFePo4 chemistry that is one of the most safe Lithium-Ion technology. This chemistry is non-flammable and is considered as non-hazardous by international regulation standards, but is not subject to thermal runaway.
● Each battery has a high quality Battery Management System (BMS) inside that ensure a safeguard role during battery operation.
Q2.

What can we use Wisdom Power® battery for ?
Wisdom Power® battery can be used for any system or application that would normally use Lead acid battery (AGM, GEL) in 12V, in series to reach 48V. Wisdom Power®  batteries are commonly used for electric vehicles, including marine, golf cart, CCTV, PV energy storage and etc. After replace your old batteries, place Wisdom Power®  battery in the same way, you may also use the same cables to reconnect  Wisdom Power® battery.
Q3.

Do we need to recharge the battery immediately after operation ?
Lead Acid batteries needs to be fully charged after use or before storage. But Wisdom Power® lithium-ion 12V, 48V, 72V batteries can be partially charged or discharged. You can leave your battery half charged for some weeks without any issue. But if you plan to store battery for a long period (> 2 month), you need to charge battery at minimum 25% of SOC (State of Charge) before storage. It is necessary to check battery voltage every 6 month during storage.
Q4.

How do we charge Wisdom Power® Lithium-ion battery ?
Wisdom Power® lithium ion technology uses the most and latest advanced built-in battery management system (BMS) to monitor and prevent damage to the battery during operation. You may use a Lead-acid charger with Wisdom Power® Lithium battery, but some customers prefers using a Lithium charger to keep a better lifespan.
Several charging sources are possible:
● Alternator: Most alternators (marine, RV, cars) will efficiently charge Wisdom Power® lithium ion technology. Alternator charge voltage is between 14.0V and 14.6V (for a 12V battery)
● Conventional Lead-Acid battery charger: Wisdom Power® Battery Management System (BMS) is designed to be compatible with standard chargers. You need to check that charger has a built-in CC/CV charge algorithm (Constant Current / Constant Voltage) and charger maximum voltage is comprised between 14.0V and 14.6V (for a 12V battery)
● Lithium-Ion charger: This is the best way to charge Wisdom Power® Lithium-ion battery. The chargers embeds some dedicated charge algorithm with precise charge voltage. It also manage efficiently charge floating voltage and duration in order to maximize battery life span.
Q5. 

How long does a Wisdom Power® battery last ?
Wisdom Power® advanced lithium-ion technology will provide you with 3000 cycles complete charge and discharge at 80% DOD (Depth of Discharge). After 3000 cycles, you will still have over 80% of usable energy left. In case if discharge Wisdom Power at 65% DOD rate, you can expect to get 5000 cycles.
● Example 1: One Wisdom Power® 12V-100Ah battery, after discharged at 80% DOD for 3000 cycles, will be a new 12v 80ah battery.
● Example 2: One Wisdom Power® 12V-100Ah, after discharged at 65% DOD for 5000 cycles, will also a new 12v 80ah battery.
In this duration, If discharge 80% and then recharge it every day, you will still have 80% of usable battery energy left. This is a large increase in lifespan compared to Lead Acid battery (AGM, Gel) rated at 500 cycles for 50% DOD cycles.
Q6. 

What is the Battery Management System (BMS) and how does it work ?
Each Wisdom Power® has a built-in BMS. The BMS is a high-tech design that manage two main aspects of battery during operation :
Protection features :
  ● Low Voltage Protection Switch – Automatically disconnects at 10.0V
  ● Over Voltage Protection Switch – Automatically disconnects at 14.8V
  ● Over temperature Switch – Automatically shut-down battery until normal temperature recovery
  ● Reverse Polarity Protection Switch – Automatically and safely disconnects battery
  ● Short Circuit Protection Switch – Automatically and safely disconnects battery
Balancing features :
  ● Internal cell balancing – Automatically balance during in operation. Balancing algorithm has been developed to ensure perfect balance between cells throughout battery life.
  ● Charge balancing – for Wisdom Power® connected in series, the BMS will balance each Wisdom Power® independently, in order to provide a constantly balanced battery system.
Q7. 

How to place Lithium-Ion batteries?
● All our batteries can be placed in any positions (tilted or lying). There is no obligation to install them upright, as for the conventional batteries in Lead/AGM.
Q8. What if there isn't a Lithium iron battery on the market that fits my application?
● LiFePO4 batteries are customizable for your energy needs, making it easy to switch from lead acid batteries, regardless of the type of vehicle.
Q9. How does lithium's shelf life compare to that of lead acid?
● Unfortunately, lead acid batteries deteriorate unless you charge them every day. Lithium maintains most of its usable capacity even if you store it without charging for a year. For optimal protection, experts recommend storing LiFePO4 batteries at 50 percent depth of discharge (DOD).
Wisdom Power® products are designed an assembly of sealed cells. There is no any electrolyte leak. The whole of the block cells and embarked electronics is firmly fixed in For more about custom manufacturer of lithium battery products, please visit https://www.lithium-battery-factory.com/lithium-companies-contact-us/